My Snap Page Website
This was a clicking game assignment I did with a partner. We made it by arranging code pieces.
This is an example of a code piece. Code pieces do certain actions like drawing shapes, moving avatars, make lines and shapes thicker/bigger, etc..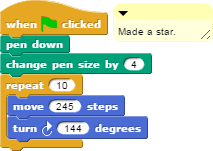 I think this star I made from code pieces is cool, because it's a nice shape I could make with code pieces. I made it by changing how much the arrow turns, repeats, and moves to make it into a star.